Fans of the Psycho Pass anime series, rejoice! The latest installment for its Season 3, "First Inspector", is now out on Amazon Prime!
For those of you who do not have an Amazon Prime subscription yet, this is your chance to take advantage of the 30-day free trial from Amazon to watch "First Inspector", as well as other videos they have on offer.
Psycho-Pass 3 is an anime set in a futuristic but dystopian Japan, where the Sybil System (シビュラシステム, Shibyura Shisutemu) , a powerful network of psychometric scanners, is used to measure the mental health, called "Psycho-Pass"  (サイコパス, Saikopasu), of all the citizens. When the likelihood of a citizen to commit crime, called Crime Coefficient (犯罪係数, Hanzaikeisū) index, exceeds a certain threshold, field officers of the Crime Investigation Department of the Public Safety Bureau (公安局, Kōan-kyoku) are tasked with the apprehension or pursuit of potential suspects, and they are either arrested or decomposed as the situation calls for it.
Psycho-Pass 3: First Inspector is a direct sequel to the 3rd season of Psycho Pass, and follows the story of Inspectors Arata Shindo (played by Yuuki Kaji) and Mikhail Kei Ignatov (played by Yuuchi Nakamura) of CID Unit 1 as they get involved with the criminal underground organization Bifrost, seemingly on opposite sides of the fence, where their loyalties to the Public Safety Bureau – and to each other – are tested to the limits.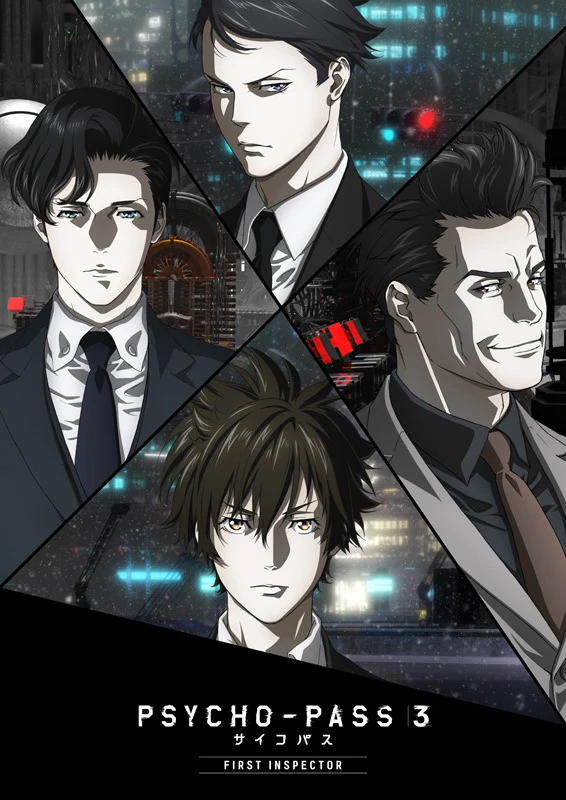 (C) Psycho-Pass Production Committee